Now that I have officially "launched" this project, I wrote this introduction to the Real Men Challenge Manual.
Comments please
Why the Real Men Challenge?
Why me?
The Stats
Family violence continues to be one of the most serious social issues of our generation.
The statistics tell us the story:
One woman a week is killed at the hands of a current or former partner in Australia.
One in four children are exposed to domestic violence.
One in five women have been sexually assaulted and/or threatened since turning fifteen.
But there are people behind those statistics
THIS WILL BE THE FIRST OF THE SURVIVOR STORIES TO APPEAR IN THE BOOK
I have been a White Ribbon Ambassador for 5 years and have been working with my local communities to take action to prevent violence against women for many years. I often tell the story of my first encounter with a family violence incident in 1976 when I was just a young inexperienced 19-year-old Policeman stationed at South Melbourne. That incident has always stayed with me and the stories of the many survivors that have been shared with me has been part of the motivation to write this book.
Inspiration from the Cobbers Memorial in France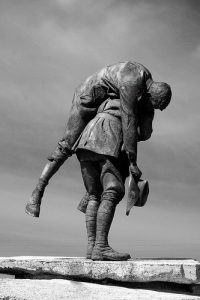 In WWI at the Battle of Fromelles, it was the worst 24 hours in Australian wartime history. 5533 Australians were casualties of the Battle of Fromelles including 1917 killed, 3146 wounded, and 470 taken prisoner. After that horrific 24-hour battle, Sergeant Simon Fraser returned to the battlefield with his fellow comrades to rescue wounded Australians, under fire they managed to rescue around 300 men. On one of his trips back to the battlefield Sergeant Fraser heard a plea from one soldier 'Don't forget me cobber', and he didn't."
The original "Cobbers" statue by Australian sculptor Peter Corlett stands in the Australian Memorial Park at Fromelles in France.
With respect for the fallen, I have taken the inspiration of the courage and self-sacrifice of these men as we have developed the Real Men Challenge. At its core is about men helping men "Stand Up, Speak Out and Act to prevent Men's Violence Against Women". (The White Ribbon Oath).
I believe it is time for men to show leadership in their homes, in their workplaces, in their community and show young boys, teenage boys and young men a better way to live their lives. This book is to help them do just that.
The question
But what does all this mean to ordinary Australian blokes? Our neighbours and our friends?
Since the release of the framework, additional academic commentary has emerged using terms such as "toxic masculinity" or "hyper masculinity". Again, what does all this mean to ordinary Australian blokes?
Over the past 8 plus years I have had numerous opportunities to speak about this issue. These have included schools (staff and students from all age levels, including Junior School); businesses; sporting clubs and a variety of community groups. In those discussions I have observed a common theme emerging around how to engage with men and the variety of hard questions that arise around men.
In June 2018 I attended a "Male and Masculinity" forum sponsored by Women's Health Goulburn Northeast which started to look at the question of "what is a man". A conversation was started but there were more questions than answers.
However, at the forum, Dr. Michael Salter – Senior Lecturer at University of Western Sydney made a very insightful statement:
"Men want to be good".
That may be true, but the issue is that they don't know how and many are trapped in their upbringing, culture and thought patterns. So when they are confronted with negative commentary on men like "toxic masculinity" they often see this as a personal attack on them and their "masculinity" and they stop listening and the message gets lost.
This is not a poor men statement, but just a statement of reality about the difficulty of communicating this message to the men who need to change, those who want to be good but don't know how. That is where the Real Men Challenge can help.
 About the Real Men Challenge
So, what is this manual all about?
It provides a guide for men about "how to be good" and what is a "positive masculinity" and the missing narrative for males to help them live out in in their relationships with both their partners and their children.
This manual draws strongly from my Christian roots, as Christianity provides proven model for life that has stood the test of time, but with the waning of the "Church" in the public space, those values have been overlooked.
You can see the outline of the Challenges in this manual below. The manual can be a resource used by individuals but would work best in a group discussion, supported by a trained leader who will help men work through the challenges and the very real issues/problems that the challenges will raise in men's lives.
The primary challenge is Challenge 2 – Love. This will be entirely based on the "Love Chapter" from 1 Corinthians 13 which is often read at weddings, but then the principles it provides is often overlooked in the relationship. This manual will bring those principles back to the fore and help men "be good men". Through each challenge and the various sub-sections, I will ask challenging questions of men and put that Love into action.
Refer to the "Manual" pages for the outline (which will be inserted into the introduction)
Please feel free to comment.